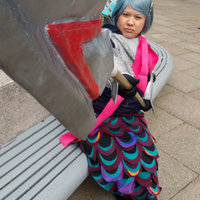 Oktavia von Seckendorff
Role

Cosplayer

Series
Characters
Details

Oktavia von Seckendorff is the witch form of Sayaka Miki. First debuted at Sakura Con 2016. I was literally working my fingers off up to the very last second -- sewing Friday evening of the con even! This costume is still technically a work in progress. There's not a single piece that doesn't need revisiting/redo-ing. Hoping to fix up and re-wear Sakura Con 2017!

Armor commissioned by Bockibear! She does amazing work! Everyone check her out!