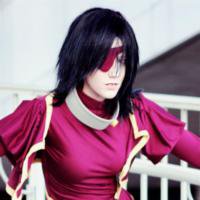 Space Pirate Queen
Role

Cosplayer

Series
Characters
Details

Time: 30 hours.

Materials: Stretch jersey, leather, craft foam, elastic.

Another nod to the boyfriend for coming up with this one.

The fabric is a godsend. A very lucky find at Fabric.com, because it's no longer available! The yellow is also the same material, but purchased in a pale yellow. I dyed it to get the right tint. Everything was patterned by me, including the puffy sleeves! And my first eye patch. Very disorienting.

The shoes were also heavily modified. I ended up taking a pair of patent leather heels that I had and built up the base to create the slouchy boot. Unfortunately I ran out of leather to make the buckles (bah!). When I have time and fabric I'll go back and remake them. But for now, I like them just as they are.

The wig is the Jareth in Raven from Arda Wigs. It ended up being way thicker than expected, which was easy to cut, style, and spike.