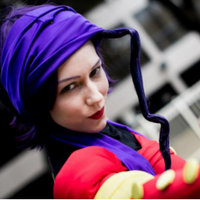 Rose
Role

Cosplayer

Series
Characters
Details

Oh Rose...well what can I say. I have NEVER seen anyone cosplay this character of all of the Street Fighter ladies. That's always my MO, so why not?

All of the material that you see is a lovely stretch jersey that I found. It made the piece comfortable and breathable (unlike some of the other fighting outfits for women). The head scarf is actually remnants from another costume. The belt is pleather, with the buckle made by me. I also made the buttons, because Rose has ridiculously large ones and to purchase them would have cost more then the fabric. The wig is a 58" that was braided for ease of wear.

The bang you see is detachable from the wig. The base was made out of wire and craft foam, which I layered wefts of hair on top of. There is a larger wig with the back curl, but due to it's size and shape, I haven't been able to wear it out yet (and I've taken this costume only to traveling cons).