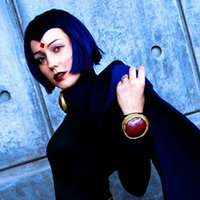 Raven
Role

Cosplayer

Series
Characters
Details

My first super hero outfit, Raven was always my favorite of the Teen Titans. I took on the character after a friend requested that I join her small group, and I couldn't resist.

Everything that you see was made by me. The soul gems are made out of Sculpty, covering Styrofoam balls and attached to craft foam (which was then sewn into snaps and fabric). I opted for a fully lined cloak to make sure all of the edges were finished properly. The wig was purchased as a purple, and I sharpied in dark blue highlights. The "point" section on the top is a section of black fabric sewn into the wig, and then layering the bangs with tacky glue. Once dried, the bangs were cut to the right style.

By far, this is one of my easiest costumes to make, but so much fun to wear!