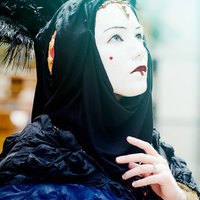 Amidala - Star Wars Episode I
Role

Cosplayer

Series
Characters
Details

More photos to come.

This was a true labor of love, taking over 8 months to complete, 600+ hours of crocheting lace, beading, and um, coning? (The act of adding cones to the fabric of the coat...I like coning. Coning works). By far my most time consuming costume to date, and I love every little bit of it.

If you are interested in the full costume details, feel free to contact me! It would take way too long to type up the full report here.

Costume won the All-Con 2014 Best Sci-Fi and Best In Show awards.