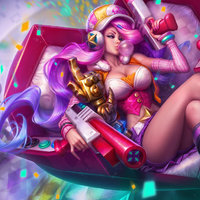 Fortune Doesn't Favor Fools
Role

Cosplayer

Series
Characters
Details

Why I chose to make this costume:
To put it simply - I just loved the design as soon as I saw it. All the colors made it so fun!

How I made this costume:
When the splash art was leaked I had very little to go from, but I started right away by purchasing a dupioni silk that is woven with both hot pink and orange threads. In some lights you can catch the orange just right. The vest pattern I based on a top I already own and modified it slightly to get the right shape. I also embroidered stars on the front two panels to match the reference.
When the 3D model for the game released I was able to study the skirt a bit better. I purchased both dark purple and lilac stretch denims to make the skirt. I spent approximately 4 hours measuring and cutting 2" x 2" squares to make the skirt out of. Unfortunately I wasn't able to find pre printed fabric in the right colors and I simply didn't have the time to get the fabric printed myself. Plus, I ended up loving the two colors I chose. Once I had all my squares cut I carefully sewed several rows together (7 rows for both front and back, including the pleat for 14 total rows). I added a waist band, belt loops, and some fabric covered buttons to finish it off. At some point I'd like to add a lining to the skirt, but for now it is unlined.
The vest reminds me of Marty McFly, so I kept true to that design with my own. Rather than making the vest mostly flat like the reference I filled it out with several channels that I filled individually with fiber fill.
I purchase white headphones (yes they actually function, the cord is removable!) and modified them using worbla and paint. The stars for both the headphones and belt were molded first out of Sculpey and then covered in worbla. To avoid adding additional weight to the headphones, the stars are hollow whereas the belt buckle is not (in order to accommodate hardware).
The wig I purchased from Epic Cosplay and hand dyed using the sharpie method, using three different colors (hot pink, blue, and purple). The blue is only obvious in some lights.
The arm warmers were knitted for me by a friend.
The hat is probably the only thing I am not completely happy with, as it doesn't stand up as well as I had hoped. It's pieced together using three different colors of fabric, and the heart is hand emroidered to the front. I used a satin stitch to fill in the light pink portion, and a split stitch for the hot pink border and "eyes".
I actually purchased original NES guns (yes the same ones you use for duck hunt). The guns were taken apart and the wiring removed, however the triggers still function. The tips were sawed off so they are straight instead of angled. Then they were painted using a hot pink glitter spray and a pearl white. I'd like to build these to scale and add lights that turn on and off with the triggers, but that'll be a project for another day.
The boots were a find on ebay and were modified using paint and a leather strip.

Thoughts on this costume:
I'm glad I was able to complete this costume in time for PAXPrime, since the skin code that was given out by Riot was this one. I'm incredibly proud of how well everything came together. I was a little worried about all the different colors clashing, but once I had everything on I knew I nailed it. My favorite part is definitely the skirt. I'm extremely proud of the work I put in and it's just perfect to the reference.

Overall the costume was extremely well received at PAX, even from non-League players and I will likely wear it again during PAX South. Keep an eye out for some shots that Albert and I set up inside of GameWorks, soon!