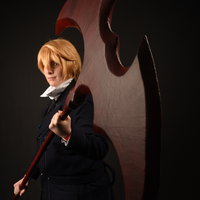 Oz Vessalius
Role

Cosplayer

Series
Characters
Details

W.I.P. Report:
Chemise is now complete. White bunny buttons have been added as decoration to the sleeves' cuffs. Ten strips of white ribbon have been sewn on the front to give it some detail. Once I figured out how to do pintucks properly, I might remake this piece using that technique instead of the ribbons.

Waistcoat completed. I had a large amount of blue fabric leftover from another project so I opted to recycle. As my fabric was plain, I went and sewn roughly 40-some black strips of ribbon at a 1" distance from each other. The front pockets are lined with a starry-glittering fabric and I used six gold-motif buttons that were given to me. Other than the black lining, the rest of the materials used for this piece were recycled/leftovers.

Shoes, socks and wig have been bought. Just need to receive and style the latter.