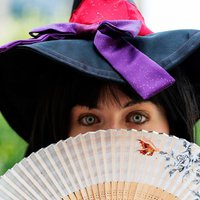 Yukiko Amagi
Role

Cosplayer

Series
Characters
Details

HAT- The hat is modified from the Simplicity 4015 pattern and made of vinyl covered in satin for stability. The hat brim has wire inside to keep its shape. I added a bow to the design to incorporate more of the accent fabric.

DRESS- Made by altering the New Look 6243 pattern. The black is satin, the red and purple are glitter satin, and the maroon is glitter organza.

SHOES- removable shoe bows made of satin and organza.