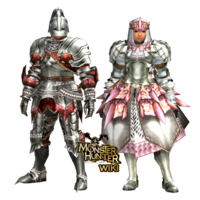 Rathian Heart Z Armor
Role

Cosplayer

Series
Characters
Details

So my boyfriend possibly loves Monster Hunter more than any other game... And I started playing it a little bit. The armors are super detailed and ridiculous, so I want to make one of the "pretty" ones. I'll be doing the female armor on the Right.

Not sure when this will actually happen, the running joke is that we keep planning it for later and later and later. ha.