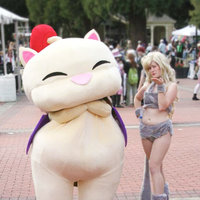 Ayla
Role

Cosplayer

Series
Characters
Details

My bravest costume yet. Lots of crunchies were done. But she's my favorite character from my favorite game, so it had to be done.
I started work on this in 2009, but wasn't brave enough to wear it until 2014.

Construction:

Fur - Purchased from JoAnn's. I attempted to tint it purple with some Rit fabric dye, but being synthetic, I was less than successful. I like to think it's slightly lavender, though.

Top - Constructed over a cheap Walmart bra. At first, just covering the cups resulted in the top being awkwardly high, so I lopped some triangles off the top, salvaged the strap hooks, and sewed them to the inside. I use a clear bra strap in a halter-style to make sure it stays in place. The hair covers the strap, mostly. Closes in back with the original bra's hook-and-eyes.

Bottom - I studied some underwear closely and guesstimated the pattern, then sewed a loose swath of fabric around the top to make the fold-over. The fabric gapes a bit after a period of being worn, so I added some lingerie elastic to the legholes for added security. I keep the waist wrap in optimum position with a length of cord tied under the wrap, otherwise it just goes wherever it wants (her waist wrap defies gravity, frankly).

Tail - About 10 feet long when uncoiled. Took forever to turn it inside out after sewing the inside seam... It's sewn to the back of the top, and Ikeep it in place with well-placed safety pins when wearing.

Boots - An eBay find, they were originally a tan suede boot. I sewed the last remnants of the fur to fold over the top (never before or since have I bought the exact perfect amount of fabric for a cosplay), and painted the main body in a matching gray. The heel technically isn't accurate, but is more flattering to my build, and since so much of my build is on display, I opted to allow it this once. They're actually pretty comfy.

Wig - Another eBay find. I love the ash-blonde color - slightly dirty, perfect for a cavewoman. I trimmed and curled the bangs, and did my best to do the one big roll-curl on top of her head. It rarely stays in place.

Makeup/Accessories - The hardest accessory to get ahold of was nylons that are actually sheer-to-waist! And then, keeping myself from shredding them before con.
For makeup, I use a blonde eyebrow pencil and some subtle eyeliner with neutral eyeshadow. I found that pink lipstick works best with the blonde hair.