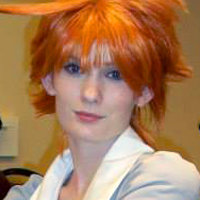 Duck
Role

Cosplayer

Series
Characters
Details

I loved this series, but I'm not graceful enough to be Princess Tutu... so I decided clumsy, graceless Duck was perfect for me. Had fun going "Quack?!" whenever someone would call my name.
Petticoats. So. Floofy. I took up 3 chairs every time I sat down.
Will need to add more wire to her wig before wearing again, as I kept having to adjust her vertical lock of hair all day.