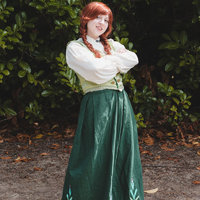 Anna (Frozen)
Role

Cosplayer

Series
Characters
Details

First version!
Vest was too big, had installed a zipper. Rushed it.
Second version!
Vest now fits, sit's right, and has hook and eyes as a closure. It's also fully lined!

Skirt is washable and I let it air dry. I used acrylic paints for the design, and made the stencil using freezer paper.
Fabric is a heavy weight cotton (probably blend), I took one of my mom's old curtains to make it.
Shirt is vintage and was my grandmothers. I won't be dying it.