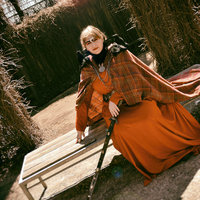 Morrigan
Role

Cosplayer

Series
Characters
Details

This is a costume based of of the Morrigan Halloween concept from the website Take Back Halloween, a page dedicated to offer Halloween costume options for women that are not sexy and skimpy versions of something else. As such, the concepts they come up with are for historical queens, notable women from history, Golden age Hollywood actresses, and Goddesses of all the world's mythology.

http://takebackhalloween.org/morrigan/

For my costume, I used a red medieval fantasy dress I already had made, made a simple hooded shawl, as well as the circlet and earrings, followed their instructions for the feathered collar, and set the birds onto feathered epaulettes made following a Threadbangers tutorial. The belt, brooch and chain necklace I already owned. The hair and makeup was done following Take Back Halloween's model.