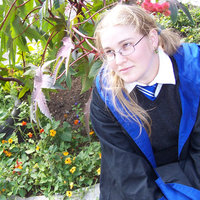 Ravenclaw Student
Role

Cosplayer

Series
Characters
Details

Generic Ravenclaw Student (I call her Morag Hazel), first made for the premiere of Harry Potter and the Goblet of Fire (2005).
Cloak, cape and skirt made by me.
Sweater and scarf from Hobbie's House of Wizard Wear.
Tie from Alivan's.
Wand from Charmes & Sortilège.
Shirt and and knee high socks from Walmart.
Frog earrings bought at Claire's in 1996.