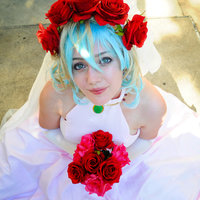 Nia Teppelin
Role

Cosplayer

Series
Characters
Details

My fifth Nia cosplay, and certainly not the last. This was one of my dream cosplays, and I'm still scratching my head that it happened so painlessly!

I don't think anyone who's watched Gurren Lagann can forget the wedding in episode 27...after all the friends lost and the battle finally won, it would make sense that Simon and Nia would have their happy ending, right? But Gainax is Gainax and there always has to be a heartbreaker, even if this is one of their lesser stabs. Watching Nia fade away killed me inside...not to mention Simon being left behind.

The dress is crafted loosely based around a vintage 50's pattern for a strapless dress. I used JoAnn's Casa Collection crepe in light pink. The skirt is 6 separate pieces, gathered, and stitched into the bodice (the frontmost piece of which was hand-patterned by me). I hand-cast the resin jewel at the neck, hand-sewed Swarovski red teardrop crystals to the halter, and edged in gold bias tape and puff paint. The veil was hemmed by me using an overlocking stitch and trimming excess, the gloves were purchased and hand-edged in lace, and the rose crown, bouquet, and butt-roses (lol) were purchased and arranged by myself. Petticoat was also purchased and worn.