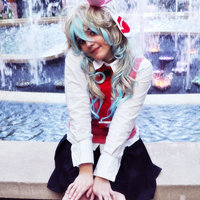 Nia Teppelin
Role

Cosplayer

Series
Characters
Details

The Gurren Gakuhen manga is just about the most hilarious spinoff I've ever seen a series spit out. Everyone's being absolutely ridiculous and Simon's about the only sane one among them--and Nia is just irrepressible. Falling down a flight of steps to a soft landing straddling Simon's face? Like, SERIOUSLY? xDD And calling herself his wife and GATTAI'ing with him upon first meeting him. She doesn't putz around, does she? Marina (summonerumi) and I randomly decided to do this for an easy, comfortable Sunday cosplay at Katsucon--only later did we realize it'd be Valentine's Day. xD We're not a couple, we're best friends, but we had a good time pretending to be this adorable pairing~ That seems to be a theme with us, haha.

Also of note is getting to cosplay alongside Brett, aka shadownet752, and Alycia, aka kagiri, whom I consider to be the most awesome Kamina and Yoko cosplayers on the planet...and super-sweet people to hang out with, too.


Luckily, this was relatively easy. I had to sew a black pleated skirt from scratch, no pattern, just winging it. The buttonup, vest, and shoes were purchased at discount stores, and the socks at Target. The wig was a carryover from my other Nia cosplays, by SakuraWigs, and the tie and hair-flower were both recycled from my Princess!Nia version. Alterations to those for this costume involved cutting the petals of the flower into better shapes, removing the white hair-fall and handsewing a much less fail one, and cutting my collar/tie down to size and painting the jewel base red.