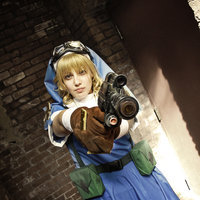 Rosette Christopher
Role

Cosplayer

Series
Characters
Details

COSMODE issue 31 feature and Cosplay.com Showcase Costume!

I will never, ever get sick of cosplaying Rosette. She is truly the character I resonate with the most. Chrono Crusade is, hands down, my favorite manga, so this is a labor of love, really. I can't imagine cosplaying her half-assedly. She's such a strong, bright, explosive, hotheaded, and wonderful character--I really want to do her justice. LOOSE CANNON NUN FTW /cheese...not to mention Chrono/Rosette is probably my favorite fictional pairing, ever. Moving on.

I decided the best way to imitate the somewhat baggy look of the whole thing was to sew a shirt and tuck it into the skirt. The skirt was a basic circle skirt (a HUGE one), and the shirt was frankenstein'd together by combining a basic T-shirt pattern with a poufy-sleeve pattern piece I yoinked from another one of my patterns. The nun's cowl was basically done by sewing a circle skirt to fit my *neck*, following one of the earliest arts of Rosette in the manga. The loops on the ends of the sleeves were hand-sewn on. The gloves were purchased and modified with gold plating I made from craft foam and brads, as well as the white cuffs. The habit was made by wrapping a headband in white fabric and sewing on a half-circle of the same blue fabric. The wig is by the lovely ladies at SakuraWigs.

THE ACCESSORIES! GAH! I was most concerned about that freaking pocketwatch, but it didn't end up being too difficult. It's essentially the lid off one of those cheap wooden trinket boxes you find at craft stores, clay, a wooden disc and small mirror to fit it, a spice bottle and water bottle cap, some electrical wire and hot glue, and a liberal amount of spray paint and gold/antique acrylic paint. The Magdalan badges are layered craft foam and spray paint/antiquing, the parachute harness is made out of random straps/buckles bought from Strapworks.com, and my ammo boxes are styrofoam creatively wrapped in fabric. My boots are real steel-toe men's boots, and the stirrups were made by hand, with elastic, rings, and hot glue. The gun was a kid's toy gun bought and spray painted/modified by me.