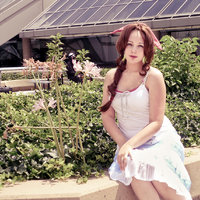 Aeris Gainsborough
Role

Cosplayer

Series
Characters
Details

FIRST COSTUME EVER and I realized I never uploaded it here. Copied and pasted from my Coscom entry made in August 2008:

This was my very first cosplay, and no, it was not handmade--this was before I knew how to sew. xD The dress is comprised of a tank top and a sundress, layered on top of one another. I hand-dyed the cording/pink backing for the neckline and the lace accents for the skirt, and my mom and grandmom handsewed them on, along with the flower appliques on the strap. My mom also sewed the bow after I drafted it, and I painted and altered the shoes.

I'd like to thank SakuraWigs for donating the wig and sponsoring me and my friend Kyle in our press coverage of 2008. Couldn't have done it without you!