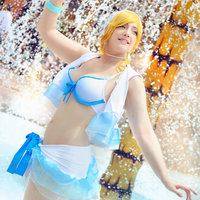 Eli Ayase
Role

Cosplayer

Series
Characters
Details

I started by sewing the ruffly skirt! I cut a long narrow triangle out of a Joann's brand of thick milliskin spandex, and then used my serger's rolled hem stitch on several very long lengths of chiffon in three colors. I stretched the spandex as far as it would go while attaching the chiffon, so that when it snapped back into place, it would gather/ruffle the chiffon for me without an extra step. The jacket went in a similar fashion, with a self-patterned shell and hood.

I designed my own fabric for the gradient blues and the pinstripes for the hair wrap and had them printed on Spoonflower. Then, I painstakingly pinned the gradient fabric to two bra cups, attached it with my sewing machine, then sewed strips of the darker blue around the edges before using embroidery scissors to cut very close to the seams to create the bias tape effect.

I hand-beaded the ponytail holder and choker, and painted a bangle. This costume was a new challenge, but a lot of fun!!