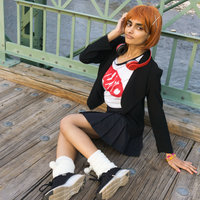 Dancing Moon Night
Role

Cosplayer

Series
Characters
Details

Still waiting for the small chance of Minako being in the dang game...

But until then....made a version for her using Minato's version as a base plus fanart and own discretion.

Skirt, socks, wig are from my other Minako cosplays.

Shirt- Bought a white shirt, added black bias tape around the collar and sharpied on the "music".

Headphones were bought for the cosplay, and jacket was given to me by my mom. It's awesome as it already has zippers on the sleeves.

Planning on using my Lizzie shoes for this.