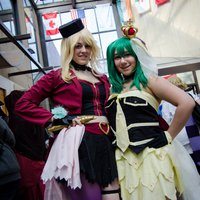 Sheryl Nome
Role

Cosplayer

Series
Characters
Details

So this is my little time when I got into Macross Frontier. Totally creative anime, I'm not usually into this type but I definitely liked it! I think this cosplay was probably one of my most complicated to that convention then.

I cant say much more than everything you see there was made by my mother, hehe. I will say though I did infact make the heart on the belt piece and the microphone which I think turned out pretty decent for just a makeshift one! :D
I also help my mom work on the shoes for this cosplay. I cant tell you how much a pain in the butt these shoes were. They hurt SO bad. I will never wear them again, but they looked hella good.