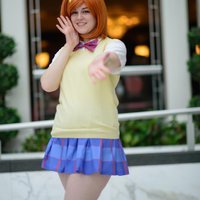 Honoka
Role

Cosplayer

Series
Characters
Details

So I fell in love with Love Live! x3 I can't say how much, it's just too much! It's so cute and the singing and dancing I can't get over it. And ontop of that the outfits add to it! :)

Decided to start with the school uniform at Katsucon 2015. And guess what! I made this all by myself. I suppose after watching my mom see for so long I've pickes stuff up quick! :)
It's not perfect but I'll get better!