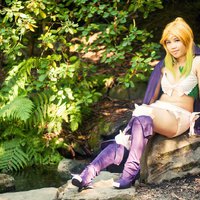 Nowi
Role

Cosplayer

Series
Characters
Details

I threw this costume together so quickly. I learned that a soldering iron is GREAT to making detailed holes in silk haha..I actually used a lot of left over fabric that I used for my Quinn cosplay which was a purple poly blend fabric. Unfortunately, I still can't make gloves so that part was funky. I might remake this cosplay but we'll see how lazy I am. I really enjoyed making the boot covers though! Hair dying was a nightmare.

I tried first to use lumier fabric paint to get the gradient but I washed it out and went with a acrylic ink dye (FW ink) with alcohol. I will post pictures of those later hopefully on my process.

I'm also really glad that my boyfriend decided to join me on this cosplay CAUSE I SHIP THEM SO HARD.