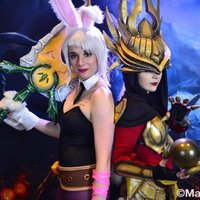 Battle Bunny Riven
Role

Cosplayer

Series
Characters
Details

I made this cosplay to wear to PAX Prime 2014. I only had two months to complete a costume, and this was my second full cosplay. I decided on BB Riven for a quick, fun cosplay, and I really wanted to make the sword.
I traveled from Albuquerque to Portland/Seattle for this cosplay, so the sword comes apart into two pieces so I can transport it in my luggage. It was featured in Machinima's Best Cosplay of PAX Prime here: https://www.youtube.com/watch?v=hg1YB9A08tQ

Everything was made by me besides the tights, bodysuit, shoes, ears, and bunny tail.