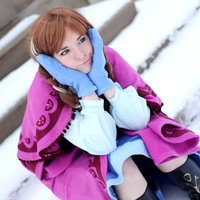 Princess Anna of Arendelle
Role

Cosplayer

Series
Characters
Details

As soon as I saw this movie (and it took me a while because I tend to get turned off by hype), I knew I had to cosplay Anna. We were buddies in awkwardness. Plus, I got my real life Christopher to sign on to be my Kristoff. Win-win.

The skirt is made out of two shades of cozy flannel fabric and closed with a hidden zipper in the back. Its scallops were cut to shape and wunder-undered onto the dark blue, the edges then sealed with a tight zigzag stitch. The flowers were painted on with Tulip softie fabric paint and a stencil, though I then had to go back and then touch up each one by hand.

Lightweight quilting cotton was used for the blouse. It was given top accents using the preset stitches on my sewing machine, which weren't perfectly accurate, but by the time I went to sew them on, I had two days till I wanted to debut this at a con. :)

The bodice is boned velvet with satin gold ribbon used for the trim, and the embroidery is more Tulip softie paint (that stuff does remarkably well!).

For the cloak, I used the wrong side of anti-pill fleece (an idea I got from Lisa Lou Who's cosplay) to give it that nice woolen look. The darker accents were also fleece, with the detailing painted on later. The bobble trim was originally a bright red that I dyed the right shade with special polyester dye. The cloak clasp is made out of sculpty, sealed with a layer of resin. The back of either side of the clasp is a pin, so I can stick it right through the fleece, nice and snug.

I was super excited when I found these leather boots on eBay for cheap. They were orignally Banana Republic and had the right shape without being too cowgirly (that's a word). I painted the sole with crafter's acrylic and sealed it with modge podge, and for the gold I used (you guessed it) Tulip paint in metallic gold shades.

Lastly, the wig. It was another great eBay find...12 dollars and plenty thick. I sewed in some leftover white wefts I'd gotten from Arda, gave it a trim all over, styled the bangs, and that's it!