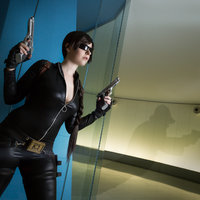 Lara Croft catsuit
Role

Cosplayer

Series
Characters
Details

Some of you might not know, but I've been a HUGE fan of Lara Croft since my childhood. Miguel, my dad's friend, first showed me the game when I was very young. I fell in love with it right away. Since then, I've always wanted to cosplay as her but I never found the courage to work with leather before recently. I started with the classic version, but I also want to do as many different versions as I possibly can.

Construction:
I made the full bag, the full belt and holsters that were made with lined vinyle with a layer of craft foam in between. I also made the first aid kit and the egyptian cross myself.

Bought or commissioned:
My wig is a Persephone- 40" Dark Brown Long Bang Straight Long Cosplay Wig and was bought from epiccosplay. I bought my boots in a mility shop, these are real combat boots. My bodysuit was bought at Boutine la Séduction in Montreal.