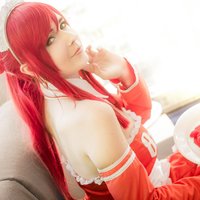 Erza Scarlet 8 island waitress
Role

Cosplayer

Series
Characters
Details

This costume comes from the very start of Fairy tail. The strongest team takes a request for playing waiters in a magic restaurant. This costume is the girl's uniform.
Bought or commissioned:
My wig is dark red ponytail wig from Epiccosplay. The full costume was commissioned by Bossbot's boudoir. My shoes were bought.