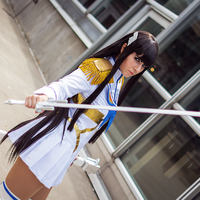 Satsuki Kiryuin
Role

Cosplayer

Series
Characters
Details

Ever since I've seen Kill la kill, I've been wanting to cosplay as Satsuki. Luckily for me I managed to do her at some point even if I hate myself with square bangs.

Construction:
I bought the boots on Taobao, but I added the blue parts on the heel with craft foam, painted it all and I also painted the full blue lines with Angelus leather paint. I also cut the shape on top of the boots myself.

Bought or commissioned:
My wig was bought from ebay, my costume from a shop online.