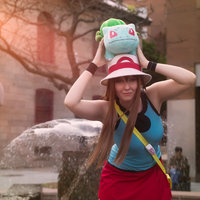 Leaf
Role

Cosplayer

Series
Characters
Details

Pokemon has been one of my favourite games since young and of course I've watched the anime too. I've always wanted to cosplay as a trainer since a long time ago and I finally did Leaf!

Construction:
I made the bag myself, redid it twice because I wasen't happy with the first one's shape. The full shirt and skirt were made by me, like the socks that were made with the left overs of the shirt. I made my own pokeballs with styrofoam balls that I shaped with an exacto.

Bought or commissioned:
My wig is a 28" Light brown Straight Long Cosplay Wig and was bought from epiccosplay. I bought my hat and my shoes from Taobao then I edited them.