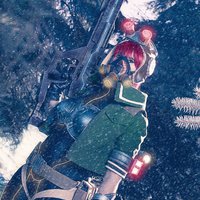 Female Waysider
Role

Cosplayer

Series
Characters
Details

This costume was an idea from my boyfriend which is a big Lost planet 2 fan. We wanted to do costumes together and this was a fun option for us. I don't regret doing this costume, but god was it uncomfortable! All the lights on my bodysuit were making it almost impossible to walk normally. I still liked to feel like a badass army girl with my man!

Construction:
All the armor was made by me with eva foam, craft foam, "D" rings, elastics and velcro. The paint was made using acrylics and matte varnish. The gun was made by my boyfriend with wood. It was painted once again with acrylics and matte varnish. A friend of mine had to sew all the EL wire directly to the bodysuit while I was wearing it. A big thank you to her for this! I made all the belt pockets and the straps that go over my thighs. I also made my leg warmers from scratch, and the belts that go on top of it that were made with craft foam and worbla. The backpack was made out of worbla, craft foam, cardboard and medicine bottles.

Bought or commissioned:
The vest and the hat were made by my mom, from scratch. The bodysuit was bought on ebay. The base for my belt was bought from ebay. My wig was bought from ebay, was originally an Erza Scarlet wig that I cut shorter and styled. All the lights were installed by my boyfriend. The base for the gas mask was bought from ebay and edited by me. I also bought a brown backpack and cut off the straps to use for my own backpack.