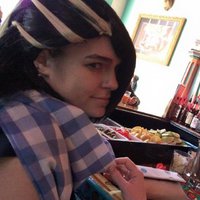 Cabaji the Acrobat
Role

Cosplayer

Series
Characters
Details

I decided to do Cabaji last minute for Sakura-Con. I was able to get a wig with 2-day shipping so I thought why not. My friend Codie helped me decide on Cabaji since she is doing Alvida and another person in our group is doing Buggy. So I thought why not Cabaji. Whats great is that I can easily genderbend Cabaji also! But for Sakura-Con I will be doing non-genderbent Cabaji so I will be doing open shirt binding for the first time. Overall I did this costume to somewhat surprise Cali which let me tell you she freaked out.

Construction notes:
-Vest/Sweeper: Made from Navy Blue Kona cotton. I altered a vest pattern.
-Scarf: Made from the Homespun Blue Check fabric from Joanns. The scarf is 3 different parts: the cowl and the 2 hanging pieces. The two hanging pieces attach to the cowl by snaps. The cowl to make it stand up a bit there is fleece sandwiched inbetween the two pieces that make up the cowl.
-Sash: Same blue sash as I use for Killer
-Pants: Thrifted white pants
-Shoes: Thrifted white shoes
-Wig: The base wig is a Black Helios wig from Epic Cosplay. Then blonde clip in extensions to mimic the shaved lines.