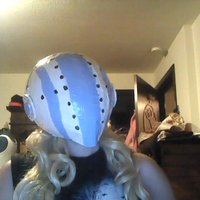 Killer
Role

Cosplayer

Series
Characters
Details

The second version of Killer! I will have a Post-Time Skip Kid with me also (my wonderful friend Cococosplay). This will be worn at Sakura-Con 2015! Overall the helmet will be remade since it was put off till last minute. Everything else was fabulous. We had a girl fangirl over me and Codie because she loves the Kid Pirates which made my day.

Construction Notes:
Wig: Light blonde wig that I bought from Amazon
Top: I dyed a white long sleeve v-neck shirt I had because it was cheaper than buying a new one. Then I printed the jolly roger on iron on transfer paper and ironed it onto the shirt.
Pants: Just jean shorts
Sash: Light blue fabric which is simply hemmed
Shoes: Brown boots that my mom gave me a few years back.
Helmet:I started by blowing up a balloon then put one layer of paper mache over it. I then put 2 layers of modge podge on it. Once dried I popped the balloon then cut the helmet to the shape I wanted with the help of my wig head. I think made sure it fit and then put holes in it. Some of them are actual holes that I can see and breathe out of the rest of the holes are painted on. Then I put one layer of gesso. 3 coats of white paint then glues the circle like headphone things. Then painted what needed to be blue with 2 coats. Once it all dried I put a layer of modge podge to seal it.
~Gauntlets: The gauntlets are made from 5mm craft foam. I first used an existing prop as a guide for my patterns. Once I got my paper patterns and how many of each piece I needed I then traced them on the craft foam then proceeded to cut the pieces out. I ended up with 26 pieces total. I then constructed the gauntlets using hot glue (which is great for craft foam and it really makes the pieces stay together. After that I measured how long I needed the dowel needed to be (so I can hold onto the gauntlets and it is used to help with the spinning scythes). Then cut the pieces.I super glued the dowels on using super glue since wood and hot glue don't work. As a precaution I added an extra piece of craft foam to help the dowel stay up and secure. The gauntlets are primed with gesso, painted with acrylic metallic gunmetal grey with graphite colored acrylic paint for the shading and the inside of the gauntlets, and then sealed with modge podge gloss.