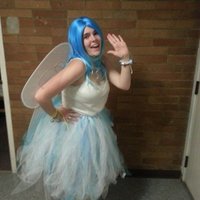 Navi
Role

Cosplayer

Series
Characters
Details

Start Date: June 2013
Finish date: October 2013
Worn/Will Be Worn At: Halloween 2013 and RadCon 6B 2014
Costume Details:
Top: Thrifted white silk night shirt
Skirt: Elastic, 10 yards of sparkly white tule, 1 yard of aqua tule, and 1 yard of medium blue tule.
Wings: Store bought
Wig: The party store. Don't be fooled this is a high quality wig that they sold along with the not so good ones.
Accessories: Bracelets/Anklets with bells.
Shoes: Just some plain flipflops since I couldn't run around barefoot.