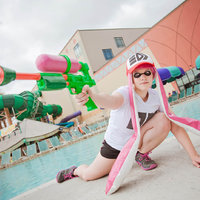 Inkling Girl
Role

Cosplayer

Series
Characters
Details

Splatoon became my favorite game in 2015 out of nowhere!!! (If you ever want to play with me, my NNID is carlysmith91 by the way!)

I used vinyl for the tentacles, and there's polyfill stuffing in the bottom to make them a little bigger (and to function as mini pillows for when I'm tired, haha). They're attached to the wig and hidden by my hat, which is just a trucker hat in red I found online. I sketched out the design from the Takoroka Mesh hat and painted it with black fabric paint.

The shirt is one I found online with the stylized design of "ika" in hiragana (the word for squid) from the first peeks at Splatoon, and I painted pink stripes on some black gym shorts.

I modified an old Supersoaker to be my Splattershot. It's mostly paint and craft foam.