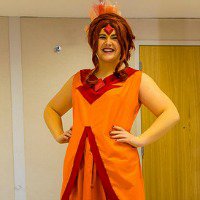 Flame Princess
Role

Cosplayer

Series
Characters
Details

I worked REALLY hard on the dress (3 months) with my awesome grandma and I can't believe how well it turned out! The wig was a pain, but I'm hoping to get a new one before next year, so all's good! This was also my first cosplay with colored contacts, and it was a huge success!
I can't believe how many people (gotta say 15+) asked me for my picture at the convention and how many people hugged and said hello to me! Even some little kids got excited when they saw me and hugged me! AHHH~! <33
Also, thank you to YGKTech for the picture!