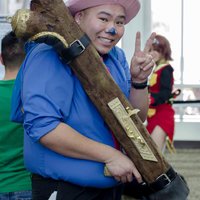 Chopper's Shoulder Cannon from Strong World
Role

Prop Maker

Series
Characters
Details

I'm not wearing the full cosplay, but the selling point to this particular cosplay is the cannon that I made.

I made it look as similar as I could to the figurine photos and miscellaneous photos I found online.

The base of the cannon is actually a poster tube; making this prop a multi-tasker.