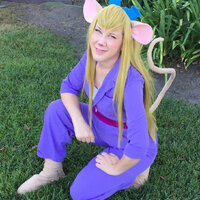 Gadget (Chip 'n Dale: Rescue Rangers)
Convention
D23 Expo 2015
Role

Cosplayer

Series
Characters
Details

Rescue Rangers was my favorite thing when I was 6! I have wanted to cosplay Gadget for a good while. Finally decided to make her to wear with my husband as Chip for Disney's Halloween Party in 2017. I initially made it without the feet and tail to wear to the parks, and then updated the costume in 2019 for D23 Expo. It is super fun to wear!

I started by modifying my old pattern for Kaylee's (from Firely) jumpsuit that I made several years ago. I used a lavender poly poplin, made it zip up the front, and fit at the waist with elastic.

The wig was my old Olivier Armstrong wig from Epic Cosplay that I cut bangs into and restyled. I made the ears by ironing together a layer of tan fleece and a layer of pink felt and cutting out circles. they are sewn into the wig.

The goggles are just craft foam and PVC pipe glued together and painted blue.

For the tail, I made the length from wire, wrapped it in tape, and covered it with a tube of matching tan fleece. It attaches to a belt worn under the jumpsuit. It also attaches to the collar of my suit with thread when I wear it up.

The feet were made with the same method as my old Puchiko cat feet. I started with a pair of sneakers, added some quilt batting for the toes, and then sewed a fleece sock to cover them with. I also glued down rubber soling to the bottom.