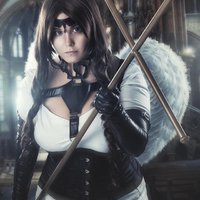 Alexiel (Angel Sanctuary)
Role

Cosplayer

Series
Characters
Details

2013 - Salón del Manga de Barcelona

My dream cosplay! Angel Sanctuary was one of the first mangas I bought, and it's so special for me. I just love Alexiel, her story, her strengh, the design... it's one of my favourite characters of all time. I spent all day thinking "OH MY GOD, I'M ALEXIEL OH MY GOD".
It's all handmade, except for the corset! I had help to make the rod, and to attach the three wings! Also, the lovely Evehie (my Gabriel!) made the earring!

Pics were made by Galliard.