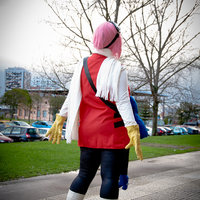 Haruko Harurara (FLCL)
Role

Cosplayer

Series
Characters
Details

2013 - FicOnLan / Expotaku A Coruña
FuriKuri is one of my favourites animes ever, and Haruko just rocks. I was looking forward to do this for a long long time!

Outfit handmade by myself, bass included!

Some of the pics were made by Sofía Díaz, and the other by Evehie.