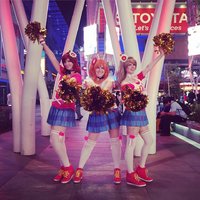 Happy Maker Maki
Role

Cosplayer

Series
Characters
Details

We knew we instantly had to make these upon viewing the last episode. Especially since all we had to do was make the shirts & small accessories.

Skirt is made from Sparklepipsi's spoonflower fabric and lined with white cotton.
Tee is poly jersey with the designs heat-n-bonded on. Thanks to Sparklepipsi & Kaeatri for patterning the flutter sleeve top as one piece.
The "straps" are a separate little bandeau-tank I put together quickly.
Flowers and wristbands made by Sparklepipsi because she's an idol robot.