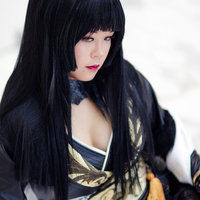 Gentiana- FFXV
Convention
MagFest 2017
Role

Cosplayer

Series
Characters
Details

Photos by Houkakyou (FB & Instagram) https://www.facebook.com/houkakyou/
Made with the following

Construction Details:
Materials use-
-2 types of Pleather for textures
-2 different trims
-2 different brocades

-Both trims were plastidipped for durability and for texture.
-I used two types of pleather for the textures
- The brocades I used for textures and looks like a gold for the top half of the outfit and the darker for the bottom half

Any questions feel free to reach out!
Personal Thoughts:
Worked on this for 5-6 months due to looking for the right materials, lack of motivation, and making sure to try and get this as accurate as possible..