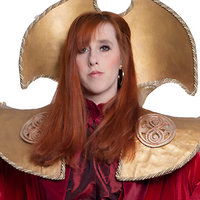 Time Lord
Role

Cosplayer

Series
Characters
Details

Made for Dragoncon 2012

This was a group project between myself, my husband and our friends Ash and Chase.

I made the robes using a stretch red velvet for the main section. I patterned the tiered sleeves, interfaced and lined them. The upper collar section was made of a darker red cotton velvet and closes at the neck, and the belts are made of the same cotton with gold trim. The inner robes are red taffeta with cotton backing.

The collars are fiberglass built over a form. We each decided to wear Converse with them for Dragoncon, and we each got a Psychic Container from Thinkgeek to carry.