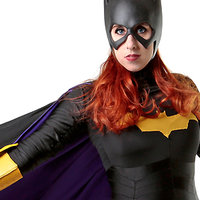 Batgirl
Convention
Dragon*Con 2012
Role

Cosplayer

Series
Characters
Details

Made for Dragoncon 2012.

Cowl by ReevzFX!

I made the bodysuit by drawing out my seamlines on an old suit I had, then cutting it up and using it as a pattern. I alternated matte and shiny sides of the spandex to highlight the seams. The ribbed sections at the inner leg and arms were made of black knit. The cape was made of black spandex and leftover Huntress material.

The boots and gloves I made using a gold wet-look spandex. My gauntlets were sculpted by my husband and cast - they need a little more tweaking to fit right which we've just never had time to do. My belt is dyed leather with carved details.