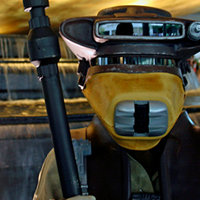 Boushh
Role

Cosplayer

Series
Characters
Details

Made for Dragoncon 2007
Most of the "hard parts" for this I bought off someone who had assembled the pieces but had not started the project.
The tunics, gloves, cummerbund and pants are leather - I broke a lot of needles on this stuff. The cape is a burlap, and the boots I made by covering a pair I had in suede and made the upper section.