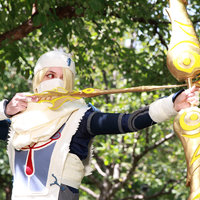 Sheik
Role

Cosplayer

Series
Characters
Details

Zelda and Sheik are finally done!! My sister skynight made an amazing job on these two cosplay! We had a hard time figuring out these costumes, especially how we were going to keep that troublesome princess armor in place! So as usual, Skynight did all the sewing part of my costume (which would mean in this case ALL of the costume!) except for the black ballet unitard that was bought on Ebay. The only things that I did by myself are the hat and the tanto. Everything else was done by my very talented sister. Very nice cosplay to wear and even if it's a bit hot to wear for the summer it can't be worst than Astrid and Ruffnut! (We sincerely try, but we were dying in these costumes!)

Forgot to mention that I also made the light bow and arrow for both cosplays, but I didn't took a lot of picture with it. (J'avais mon accessoire préféré ever, ma béquille!! --')

The light bow is entirely made of expension foam with some wood for the handle and metal wire for the rest of the bow. I recover it with some papier mache and I added a final layer of modeling paste.

We won the Best in Class in the Journeyman division at G-Anime 2016! F Yeah!!