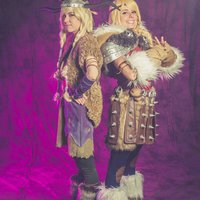 Ruffnut Thorston
Role

Cosplayer

Series
Characters
Details

A duo cosplay alongside my sister SkyNight, we had a good time figuring out the costumes of these characters even tho we underestimated the amount of work needed for them. So as usual, for the sewing parts of my costume (which mean most of it) my sister did all of the work in addition of her own Astrid cosplay so she is a big champion for that!! I help her on the paint of her murderous skirt and her shoulders armors. I did the paint job on my costume and I made my helmet with a base of craft foam, modeling paste. The horns are made out of expansion foam with iron wires inside to give them extra strength so that they don't fall or break under their own weight.

Really fun cosplay to wear! (don't have to play the pretty girl haha)

We won Best workmanship in the novice category at G-Anime 2015. Yeah!