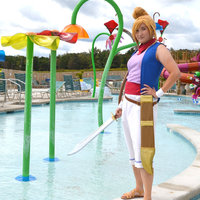 Tetra
Convention
Colossalcon East 2017
Role

Cosplayer

Series
Characters
Details

Sun's out, guns out at ColossalCon East.

I figured it was a good place to play around as Tetra in this super cartoonish-waterpark.
This was also a relaxingly easy costume to put together after the whole nightmare of styling her angry cinnamon roll-wig.


Photos taken by Timebomb Timmy.