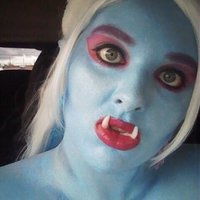 Abbey Bominable
Role

Cosplayer

Series
Characters
Details

Abbey is my favourite ghoul of all time. This was extremely fun to wear and it was really wonderful seeing so many people be happy about this costume. Especially little kids.

I had been waiting to make the costume for 2 years after she was first introduced. And then I finally got the chance when some material that was difficult to come by fell into my lap. Also I had figured out finally how to do the pattern on her dress in a way that would look good and wasn't too complicated.

This was the most tedious and time consuming costume I've ever made. I've put so much effort into each part of it. I Made the fangs from Instamorph, painted the triangles by hand(with a few of them done by some friends ♥), made the choker myself, coloured the wig, made the earrings, etc

And then aside from how much effort it took to make the costume, it's a completely different thing getting ready. But I love wearing it once I'm ready to go!

At the moment this costume is temporarily retired. Just because of how long it takes to get ready. But I plan on doing one last amazing shoot on Mt. Hood before I'm really ready to put it away. Also I have a few Kid's birthday's in store for this outfit.

Many more Abbey Variations to come.