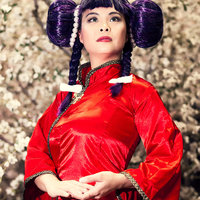 Lynn Minmay
Role

Cosplayer

Series
Characters
Details

I attempted to pattern my own cheongsaam for this costume and failed rather spectacularly, so the bodice doesn't fit quite right and the collar doesn't lie straight. But this was one of my first complicated patterning attempts. At some point I will go back and redo this costume.

Cheongsaam materials: red satin and handmade black/gold bias tape, commercially bought frog clasp, lined with red polyester
Wig: purple wig from eBay wefted with purple wefts from IKickShins.net. Side buns are wefts over foam.