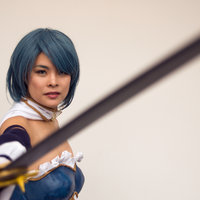 Miki Sayaka
Role

Cosplayer

Series
Characters
Details

This costume was made with help from massive amounts of gold braid trim from JoAnn Fabric!!!

Materials:
Cape and bodice: white suiting with gold trim. "Buttons" are just large gold brads
Breastplate: Wonderflex and gold trim
Arm warmers: dark blue 4-way stretch
Skirt: blue cotton with white cotton trim
Skirt overlay: blue satin
Belts: Dark blue canvas and gold grommets
Boot covers: stretch velvet with gold braid
Sword: Plywood, craft foam, black velvet, gold and silver acrylic paint. It comes apart at the hilt for transport.